REMEMBERING YANK RACHELL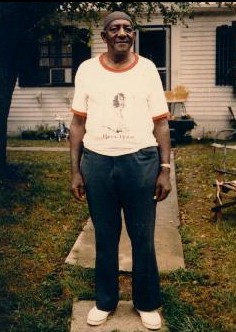 The first time I met Yank Rachell was June, 1975 at his home in Indianapolis. I was on my second trip through the south, hunting for blues 78's and looking up older players that were still around. Headed for Chicago, I wanted to stop in Indianapolis to visit Yank and veteran jug band researcher Fred Cox. When I got to town I gave Mr. Rachell a call and was invited over to his house. I had just seen his old partner John Estes in Brownsville, TN so we had a lot to talk about. Yank was still in good shape and we got to do a bit of playing. He is usually mentioned for his mandolin accompaniment with Estes & Sonny Boy Williamson but I've always admired his guitar work as well. Performances of Rollin' & Tumblin' rank with the best efforts of Muddy Waters and Hambone Willie Newbern. I spent two nights at his home and felt I should be the one giving, not receiving, such hospitality. On another southern tour in 1978, this time with Jeff Poskin, the Indianapolis stop was repeated. Once again we did some playing and were treated like long lost relatives.
JAMES 'YANK' RACHELL was born in Brownsville, TN on March 16, 1910 and died in Indianapolis, IN on April 9, 1997. Recordings with Sleepy John Estes for Victor ('29/'30) are among the greatest blues ever and his own Bluebird 78's ('38-'41) are of equal importance. He made LPs for Blue Goose ('73), Delmark ('64/'87), an appearance in the film 'Louie Bluie' and is featured on John Sebastian's J-Band CD.
JACK COOK
Seattle, WA
[Photo: Yank Rachell at at his home in Indianapolis, 1978. photo by Jeff Poskin. ]
---
REMEMBERING STACKHOUSE, JOE WILLIE & MAGER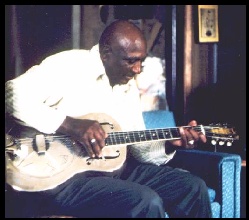 The first time I met Houston Stackhouse came as much of a surprise as the last. In 1974 I took a trip to Texas with Dave Voorhees. I drove to Memphis by myself to visit Bukka White & other blues legends still living in the area. Among names on my list was Joe Willie Wilkins, guitarist on Sonny Boy Williamson's Trumpet recordings and one of my early influences on electric guitar. I made arrangements to meet Joe at his home on Easter Sunday. What was going to be an inspiring event anyway turned out to be a great double bill. I was greeted by Joe Willie, his wife and their house guest Houston Stackhouse, one of the underdogs of country blues. Joe Willie was still playing his Gibson arch top that he had posed with in the old King Biscuit photos with Sonny Boy. The three of us played music all afternoon and it was the most memorable Easter I can remember. The following year, 1975, I was on a trip to New Orleans with Diane Voorhees where we met up with Keith Keller. Our plans were to drive to Memphis together making a few stops in Mississippi along the way. On the agenda was Crystal Springs; home of Mager Johnson, brother of delta blues legend Tommy Johnson. Mager sang & played in the same style as Tommy and had been recorded by Dave Evans in the 60's. Once again I was pleasantly surprised to be greeted by not only Mager & his family but a familiar smiling face, Houston Stackhouse. Mager & Stack took turns playing Keith's national guitar and between the two of them we heard most of Tommy's recorded classics & some lesser known Crystal Springs standards. I never saw Stackhouse again but managed to visit Mager in 1978 and hear him sing "Bye & Bye Blues" one more time. It was the song that, according to his wife, won her hand.
HOUSTON STACKHOUSE was born on Sept. 28, 1910 in Wesson, MS and died in 1981. He can be heard on Testament & Arhoolie LPs from 1966. He was also recorded by Dave Evans in 1967, released on a P-Vine CD.
JOE WILLIE WILKINS was born on Jan. 7, 1923 in Davenport, MS and died on March 28, 1979 in Memphis, TN. His guitar work can be heard on Trumpet recordings from the early 50's by Sonny Boy Williamson & Willie Love. He had one single released under his own name from the early 70's on the Mimosa label.
MAGER JOHNSON was born Dec. 7, 1905 in Crystal Springs, MS. He was recorded by Dave Evans in 1966 & some of these sides can be found on Decca, Matchbox & Rounder LPs.
JACK COOK
Seattle, WA
[Photo: Houston Stackhouse, Crystal Springs, MS, 1975. Photo by Diane Voorhees.]
---
REMEMBERING SLEEPY JOHN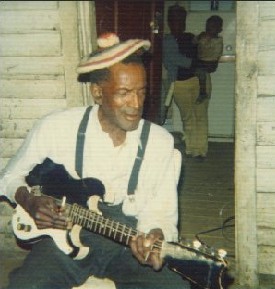 Brownsville, Tennessee is located about 60 miles northeast of Memphis. It was the birthplace of Tina Turner and homebase for a style of Blues that developed in the 20's & 30's; centered around the volunteer state's most influential blues singer, John Estes. In 1974 I went to visit a handful of blues legends in Memphis. After seeing Bukka White, Gus Cannon & Reverend Robert Wilkins; Steve LaVere gave me directions on how to find Sleepy John in Brownsville. On arriving at his home I was shocked to find him living with his family in the same run down shack Sam Charters had filmed in 1959. I was welcomed by John who immediately sent one of his relatives off to get Hammie Nixon, his longtime musical associate. After finding John's guitar under a pile of clothes; a bucket of chicken & the arrival of Hammie with a sack of harmonicas led to some of the deepest blues I've ever heard; in the most lowdown setting. I visited John & Hammie again in 1975. Estes had relocated into a housing project that made him seem as out of place as I must have appeared at the shack.
JOHN ADAMS ESTES was born Jan. 25, 1899 in Ripley, TN & died June 5, 1977 in Brownsville, TN.
HAMMIE NIXON was born Jan. 22, 1908 in Brownsville, TN & died Aug. 17, 1984. Sleepy John's Victor recordings ('29/'30) with Yank Rachell & Jab Jones are in a class of their own. His 30's recordings for Decca with Hammie Nixon are mostly autobiographical & examples of some of the most original blues to date. Estes recorded LPs for Delmark in the 60's & was part of the American Folk Blues Festival that toured Europe.
JACK COOK
Seattle, WA
[Photo: Sleepy John Estes playing at his home in Brownsville, TN, 1974.]
---
REMEMBERING BIG JOE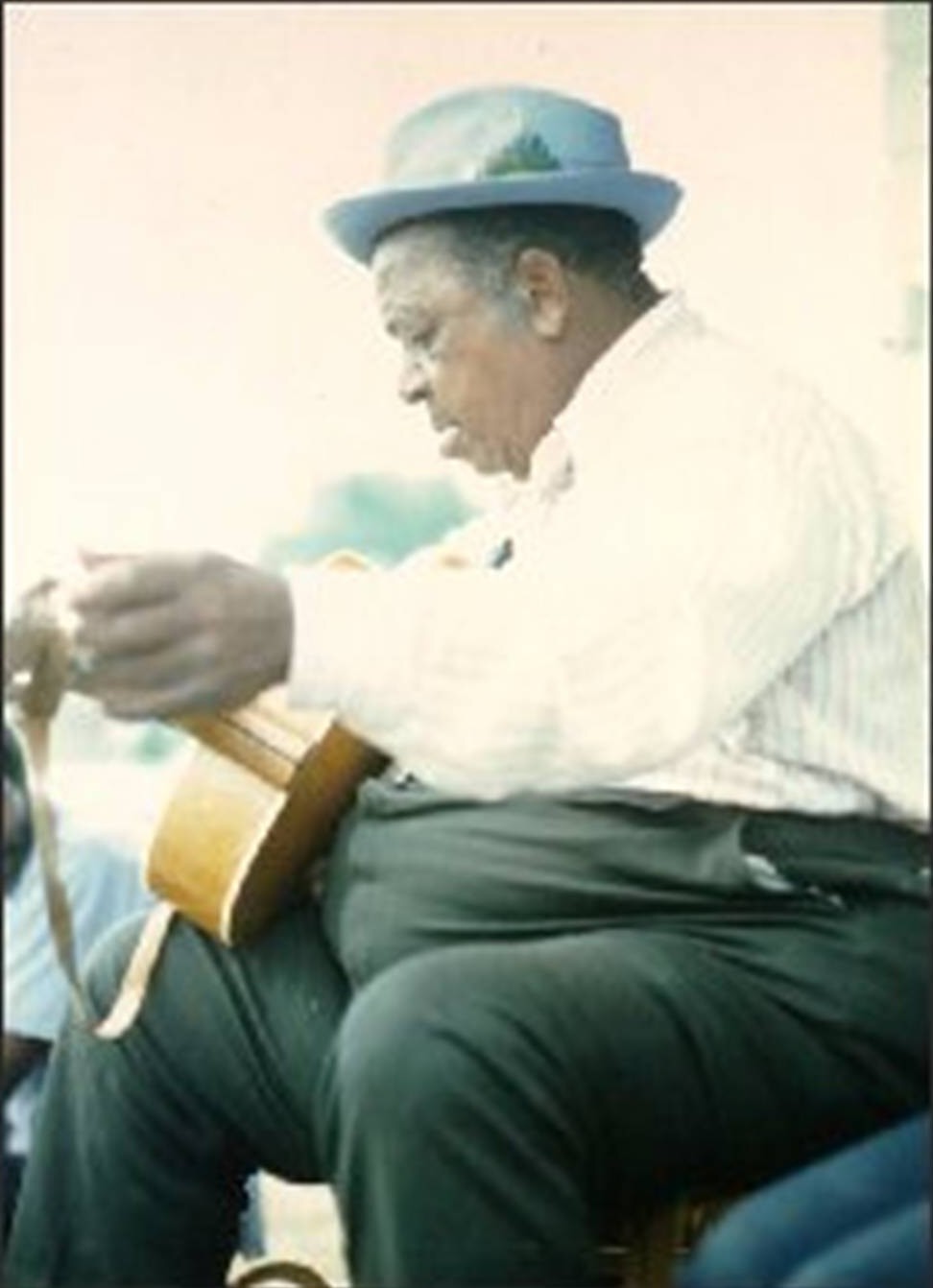 Mississippi blues singer Joe Lee Williams played an aggressive & eccentric style in Spanish tuning on a nine string guitar and was a contemporary of Robert Johnson. Big Joe had originally recorded for Bluebird in 1935 and continued a career well past his rediscovery in the late 50's. In 1975 I made a stop at his home in Crawford on route from New Orleans to Memphis. Accompanied by Keith Keller & Diane Voorhees, we were greeted by Joe & his girlfriend. After appropriate introductions & a little conversation we began playing music on his front porch and were soon surrounded by an audience of mostly neighborhood children. Big Joe`s bottleneck technique with it's unusual counter-rhythms was & continues to be an influence on my own music. A few weeks later I was in Chicago staying with Paul Garon when he received a phone call from Joe who was in town on his way to Japan. He needed someone to take him to the big man`s shop to buy a new suit and run a few errands around town. I was more than willing to do so and it gave me another opportunity to spend time with Mr. Williams. I saw Joe one more time at the 1979 New Orleans Jazz & Heritage Festival where we both performed on separate stages.
JOE LEE WILLIAMS was born on October 16, 1903 in Crawford, MS and died on December 17, 1982 in Macon, MS. Recordings under his own name for the Bluebird label ('35-'41) include "Baby Please Don`t Go" ('35). Sessions with Sonny Boy Williamson ('41-'47) are of equal importance as are appearances on numerous 78's by other blues artists. His Trumpet recordings (`51) are also recommended as is most of his work on LP, especially on Delmark & Arhoolie.
[Photo: Big Joe Williams - Crawford, MS, 1975. Photo by Diane Voorhees]
---
REMEMBERING GUS, REV. WILKINS and FURRY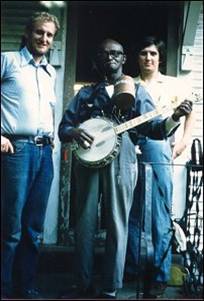 Memphis, TN has been the center for many great musical styles down through the century. This includes the many blues & rockabilly recordings of the 50´s produced in Sam Phillip´s Sun studio, marking the beginning of a career for Elvis Presley. Also a wealth of hits from numerous soul singers of the 60´s were created in the Stax studio, often backed by its incomparable house band, the MG´s. Jug Bands of the 20´s had their origin in Louisville, KY but were shortly after represented by groups with a bluesier edge in Memphis. Gus Cannon & Noah Lewis established one of the more notable ensembles, the Jug Stompers.
In 1974 & 1975 I visited Gus Cannon; medicine show veteran, jug band leader, Beale street busker, Victor & Stax recording artist and longtime resident of Memphis. Gus had been retired from the music business for some time but his presence gleamed with over half a century of performing, going back to days before blues was formulated. He still had his banjo & coal oil can that he´d played on many of his old recordings. The 1960´s remake of his 20´s hit "Walk Right In" stands as a testimony to the timelessness of his music. Just to hear his distinctive speaking voice was worth the trips to Memphis.
In 1974 I also stopped by to visit the Reverend Robert Wilkins. His recordings from the 20´s display one of the greatest assortments of blues styles from a Memphis musician. His text & chosen topics often show an original approach to blues composition. Rev. Wilkins had stopped performing blues but continued to play guitar & sing religious songs. He retained some of his music of his old pieces moving lyrics over to the spiritual side. He remade his 20´s recording of "That´s No Way To Get Along" in the 60´s as "The Prodigal Son", later to be covered by the Rolling Stones. Wilkins was also an herb doctor and had taken good care of him self; very much a standout in the history of the blues.
In 1974 I stopped by 811 Mosby to visit Furry Lewis. He was in Hollywood making a movie with Burt Reynolds, "W. W. & the Dixie Dance Kings". I could hardly blame him for not sticking around for my unexpected visit. In 1975, along with Keith Keller & Diane Voorhees, I finally got to meet Uncle Furry. We were greeted at the door by a woman who was one of several guests at his house. Furry seemed to like having folks around. There was a bottle of whiskey being shared, a pack of Pall Malls on the table & a guitar lying across his bed. It wasn´t long before we each had a glass of whiskey and Furry had the guitar in his hands. He was a natural showman and loved to entertain. Like Gus, he was a medicine show veteran and important part of the Memphis blues scene of the 20´s. I saw Furry one more time performing at the 1979 Memphis Blues Festival. His sound was saturated by too many accompanying musicians. But the crowd response and respect felt made the viewing of the show worthwhile.
GUS CANNON was born on September 12, 1885 in Red Banks, MS & died on October 15, 1979 in Memphis, TN. He made recordings for Paramount in 1927 as Banjo Joe & for Victor ('28-'30) with Noah Lewis as Cannon's Jug Stompers. Appeared in Sam Charter's 1956 film "The Blues" & recorded for Folkways and Stax in the 60's.
ROBERT WILKINS was born on January 16, 1896 in Hernando, MS & died on May 30, 1987 in Memphis, TN. He recorded for Victor in 1928, Brunswick ('29 & '30) and Vocalion in '35. Ordained a minister of the Church of God in Christ in 1950 & recorded as the Reverend Wilkins in the 60's.
WALTER 'FURRY' LEWIS was born on March 6, 1893 in Greenwood, MS & died on September 14, 1981 in Memphis, TN. He recorded for Vocalion in 1927 & 1929 and for Victor in '28. His recordings from '59-'69 include LPs on Folkways, Bluesville, Blues Horizon & Adelphi. Bob West recorded him in Memphis along with Bukka White in 1968 for Asp records. He was filmed by the U of W in conjunction with the Seattle Folklore Society around the same time & appeared in Joe Vinaco's film "Blues Country
[Photo: Keith Keller, Gus Cannon & Jack Cook - Memphis,TN, 1975. Photo by Diane Voorhees]
---
REMEMBERING BUKKA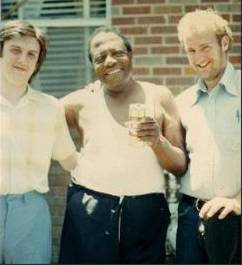 The first time I saw Bukka White was in 1973 at the Inside Passage in Seattle's Pioneer Square. Daniel Jacoubovitch & Garry Cerrutti opened the show. Bukka was in true form singing & playing his 1930's National Duolian resonator guitar he called "Hard Rock". He had performed in Seattle before and was part of a group of blues musicians who had been filmed at Channel 9 in conjunction with the Seattle Folklore Society. Bob West had recorded Furry Lewis & Bukka in Memphis, 1968 and become close friends. After the concert was a gathering at West's houseboat where Bukka stayed as did many traveling blues performers. It turned into a jam session and many of us got to play music with the Mississippi Bluesman. His bottleneck guitar & storytelling inspired many younger local musicians that night, as he had been doing across the country since his rediscovery in the early 60's. I was able to visit Booker White twice in Memphis and heard him in concert once more in Seattle at the Museum of History & Industry.
BOOKIER T. WASHINGTON WHITE was born on Nov. 12, 1906 in Houston, MS died on Feb. 26, 1977 in Memphis, TN. His 60's LPs on Takoma, Arhoolie & Asp are all excellent and his 30's recordings on Vocalion & Okeh are some of the most personal blues of their time. As long as someone's still telling a story, blues is still being sung and a steel bodied guitar makes its way up on stage, Bukka's influence will be heard.
[Photo: Jack Cook, Bukka White & Keith Keller - Memphis, TN, May 1975. Photo by Diane Voorhees]
©2001-2013 Jack Cook. All rights reserved.
Website Design by BoomKAK Productions